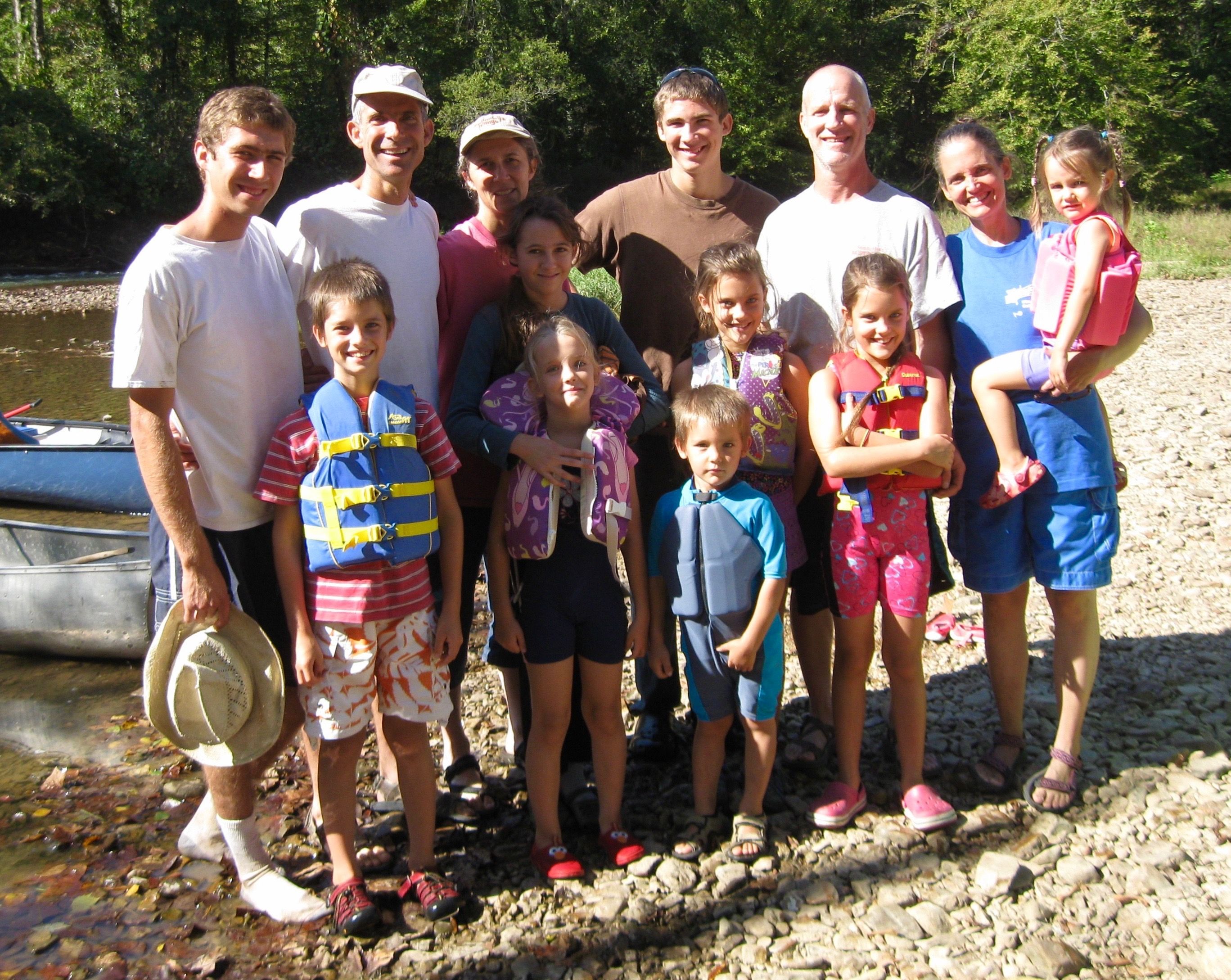 (The above photo was taken of us with the Adams Family in the fall of 2017 before we went canoeing together.)
Paula's journal entry from March 6, 2016 (Sunday): (minor modifications made) 
We just experienced the most trying weekend of our marriage.  Last week I started experiencing mild pain in my abdomen which became severe on Thursday afternoon.  I took a couple of Ibuprofen which had little effect and then Todd and I felt like the Lord wanted us to toss them out since I was starting to turn to them more and more. 
Todd had come home to drop something off around 3:30 p.m. and found me curled up in a ball on the couch so he remained home.  The pain ebbed and flowed somewhat, but then steadily intensified so that we not only contacted the A's and J's to pray, but Todd went and got W and K out of bed to come pray with us.  This was around 11:30 p.m. I think. 
I've never experienced such excruciating pain in my life.  Although I was pretty sure that my work on earth wasn't done yet, I found myself willing to "go home" or "sleep in Jesus," depending on your theology.  The pain finally subsided slightly just before Todd and W discussed contacting the A's for council since they have become our closest friends in the Lord. 
Todd didn't make the call since I felt a bit better but he had me take a shot of vodka to help me sleep.  I continued this habit every time the pain started to return.  After the vodka we turned to wine and a wine cooler so I was in a bit of a stupor or asleep for about the next 24 hours. 
Todd had J, another friend, come on Friday to help us out so that he could get some sleep too.  We were still amidst the battle around 4 a.m. on Sat. morning so Todd e-mailed the A's to let them know.  Mrs. A called around 7:30 a.m. and suggested they come over and bring breakfast and lunch but not do our usual meeting as Mr. A wasn't well either.  She also offered to take me to the clinic in Linden or watch the children while Todd did.  At this point we were open to that option as we knew that we were at the end of ourselves and I couldn't drink alcohol forever. 
By the time Mrs. A arrived, the pain had gone and we didn't go to the clinic.  I spent the day recovering from my hangover and three of the A's and Miss E kept things running with meals and child care, since Todd had to catch up on his sleep as well.  They came over again this morning for several hours as I began to experience some intense pain that threatened to be round two; but it finally subsided and didn't return. 
I recorded all of this mainly so that I could make note of the lessons learned. 
1)  Jesus really must love us since He chose suffering for our benefit when He could have escaped it.  I knew this intellectually, but somehow physical suffering has a way of bringing it into greater focus.  At one point I was looking for any way of escaping the suffering and not even love for Todd and the children kept me from considering the possibility of leaving this earthly life to do it. 

2)  I think I gained compassion for those who are suffering and hope to see that translate into more prayers for those hurting, more loving prayers for those hurting, and more effective prayers for those hurting. 
I'm more motivated to pursue the truth about healing so that we can be better prepared the next time an opportunity to pray for someone arises. 

3)  Just tonight as Todd and I were talking about it I realized that while I thought I was praying God's will the whole time, I wasn't truly surrendered to Him.  At one point I cried out that I wanted to do things His way and didn't want to go to the hospital.  Interestingly, it was after we were willing to go to the clinic that the pain subsided and this morning I even requested that Mrs. A bring pain killers if necessary since we weren't going to go the alcohol route again (we were all out anyway).  Again, I think God is trying to show me that walking by the Spirit is not as black and white as living by the Law or my little laws that I make for myself.  Love must be primary and there can be no pride in love.  We have strong convictions about not trusting in the medical system, but that does not necessarily mean that God will never call us to go to a hospital or clinic for some greater purpose.  I need to be open to that possibility.  I need to be willing to surrender even to that.  I also need to not judge others who make that decision. 
Spiritual lessons drawn from the experience based largely on my journal entry on March 24, 2016: 
Shortly after my kidney stone experience the Lord gave me the song "The One Who Made Us One" which is a song about not throwing stones, especially at other brothers and sisters in Christ.  It was something that came after pondering a conversation that I had with a friend about her visit to a local fellowship of a particular denomination that she was not a part of.  She came away from the experience with a clear understanding of how this denomination differed from all others and why they in essence considered themselves a notch or two above the rest.  I won't mention the denomination, because it could have been almost any denomination.  I should mention that the Lord uses my songs often times to convict me first and I think it is safe to say that at one time or another I've had to repent of everything mentioned in this song. 
I've pondered and prayed about it since, feeling that there is a reason why the Lord gave it to me so soon after my kidney stones.  There just seemed to be a connection. 
Here is the short list of thoughts that have come to mind. 
1)  As already mentioned, it is a song about not throwing stones. 
 
2)  When we are puffed up with pride due to our accumulation of knowledge without love, we can't pass through the narrow way and it leads to excruciating pain in the body of Christ. 
 
3)  The system for purifying the blood of the bride of Christ isn't functioning right.  Something that hit me recently is that many seem to think that the bride being made perfect or pure is somehow related to getting all of our doctrine right, so we pursue more and more head knowledge without acting on what we already have which only leads to more and more pride.  In truth, the only way to purify the blood of the bride is to receive a transfusion from the groom (Jesus) by grace through faith.  It is not our doctrine but His blood that covers our sins.  In addition I believe that true growth in understanding of God's Word comes through believing it and putting it into action, not more research and analysis. 
 
4)  One way to solve the problem of kidney stones is to go to the hospital and have them blasted into smaller stones so they can pass (someone or something outside the body is often used to humble us).  In the physical this is costly financially.  In the spiritual it is costly spiritually.  I think of the serious falls that some spiritual big wigs have taken in recent years and the enormous repercussions that their humblings have had. 
 
5)  In the physical, drinking olive oil can help the stones to pass.  In the spiritual, more of Holy Spirit helps to bring greater humility.  When we actually try to put God's Word into practice we feel our need of Holy Spirit much more intensely and we are more likely to cry out to Him to enable us to do what God is calling us to do. 
 
6)  Prolonged dehydration can lead to kidney stones.  Again, if we feed on the wrong foods (i.e. man's writings) or even the right foods (i.e. God's Word) without proper water intake (Holy Spirit), we are more likely to get stones. 
Knowing that people have kidney stones all of the time, I asked God why he revealed this to me?  This is what I felt He conveyed to my spirit, because I asked the right person the right question.  "God, what  do you want me to learn from this?  What are you trying to teach me?"  If our only goal is to escape suffering, we ask different questions of different people and get very different answers. 
I'm sure that a medical expert or biologist could expand upon this even more, but I'll leave it at this for now since I'm neither of these things.  Another thing I want to mention is that shortly before my kidney stone experience my older sister had told me about a young man that she became acquainted with in a class that she was taking. He was in his thirties.  During the course of this class the young man took his own life.  While I was in excruciating physical pain due to the stones and was considering the possibility of leaving this life, I thought of this young man and grieved the kind of mental anguish he must have been under to cause him to take such action.  Knowing that we in the body of Christ have the answers to such anguish, it made me sad to think of how much time and energy is wasted fighting each other when we could be fighting the enemy and saving souls.  Recently we heard Heidi Baker speak and she talked about the need for love among the body.  The way she put it is that if those outside the body see us loving one another, it will make the prodigals feel safe to come home.  Certainly when unbelievers see us failing to love one another, they correctly conclude that we aren't going to love them either.  Lord help us. 
Finally, it was only as I typed up this blog and considered what photo to use for it that I realized just how much the Lord has entwined our lives with the Adams family who ministered to us the weekend of my kidney stones.  Truly He has in a very real way merged our families into a oneness that we haven't even known in our natural families.  We have pursued the Lord/Truth together for the past four and a half years.  While we've spent most Saturdays together, we've spent plenty of time together outside of Saturdays as well.  While we differ on some fine points of doctrine and practical application of God's Word, we've learned to love in spite of those differences.  They have set self aside for our sakes more times than we can count.  I believe that this is the kind of unity that God wants to see among His people in the last days.  I believe it is this kind of practical love that will convince the unbelieving world that there really is a God and will help to bring in the final harvest. 
"I do not pray that You should take them out of the world, but that You should keep them from the evil.  They are not of the world, even as I am not of the world.  Sanctify them through Your truth: Your word is truth.  As you have sent Me into the world, even so I also have sent them into the world.  And for their sakes I sanctify Myself, that they also might be sanctified through the truth.  Neither do I pray for these alone, but for them also which shall believe on Me through their word; that they all may be one; as You, Father, are in Me, and I in You, that they also may be one in Us: that the world may believe that You have sent Me.  And the glory which You gave Me I have given them; that they may be one, even as We are One:  I in them, and You in Me, that they may be made perfect in one; and that the world may know that You have sent Me, and have loved them, as You have loved Me."  John 17:15-23