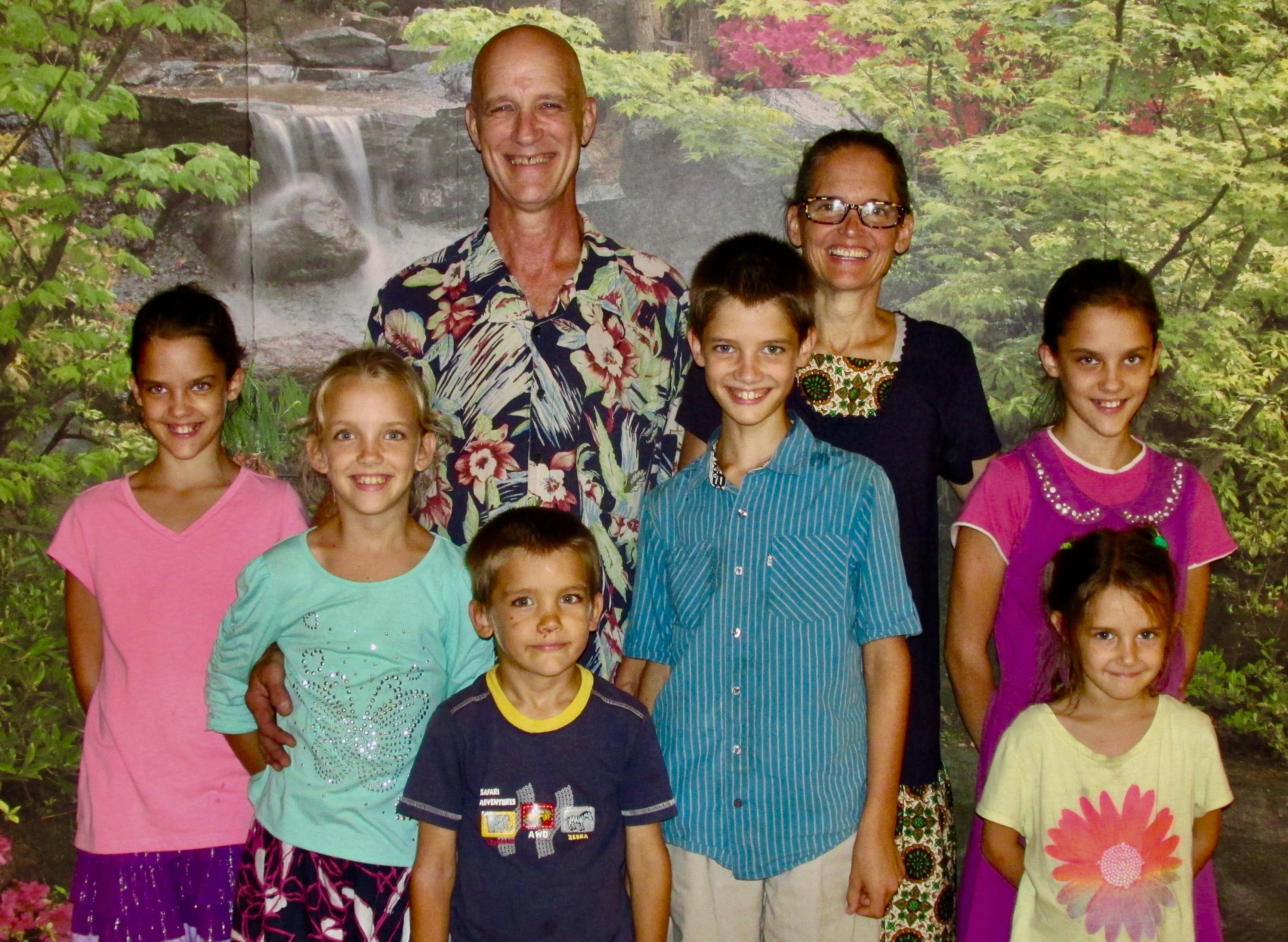 (This photo was taken at the house of some friends in east Tennessee.  This backdrop was conveniently located on the wall in their game room.)
(Note:  This is also referred to as our annual letter which we send out via snail mail to close friends and family.)
Todd - He laid four more sections of culvert in our backyard and covered them by digging out the back hill, which greatly expanded our gardening area.  We were inspired by attending the Adventist Agricultural Conference in Texas in January with friends.  His niece got married in August in South Carolina and we enjoyed time with old friends on the way (took photo on left) and family while there, as well as new friends that we met via Candle in the Window, an online Christian hospitality network.  Sadly he lost his "foster" brother at the end of October due to a heart attack, but we got to celebrate his life with family and friends in Missouri and met more friends again via CIW. 
Paula - Thanks to Bandzoogle, I was able to make my idea of a family website/ministry a reality on Oct. 1st  by launching His Homemade Hymnal (HisHomemadeHymnal.org).  Our ultimate vision is to put the entire Bible to music with help from others in Christ's body.   Simple Church (our home fellowship) remains a highlight for me and the rest of the family as well. 
Tevya - For his 12th birthday he finally realized a life-long dream (several years anyway) and we visited Grimes metal recycling center with our friends the Adams.  He had a great time looking around and digging through "treasures" but in the end didn't buy a thing.  The family however did go home with several mostly functional bicycles for the price of scrap metal and he and Daddy got those up and running together. 
Tiveria - One night our dear cat Titus failed to return home (not unusual around here).  Tiveria was thankful when Daddy brought a new kitten (Theophilus, "Philo" for short) home from work one evening. 
Tikvah - A highlight for Teeny was tie-dying T-shirts with friends for the twin's 11th  birthday.  On our annual canoe trip with the Adams we  collected elderberries and it was an experiment with those that led to the tie-dying interest. 
Teshuvah - She enjoyed collecting a variety of new kitchen appliances this year.  Tevya gave her a blender for Christmas that he refurbished and just recently she picked up a food processor and mini chopper at a second hand store.  She also won first place in the Tennessee magazine art contest in November and plans to use the money for art supplies and likely some ingredients for recipes she wants to try.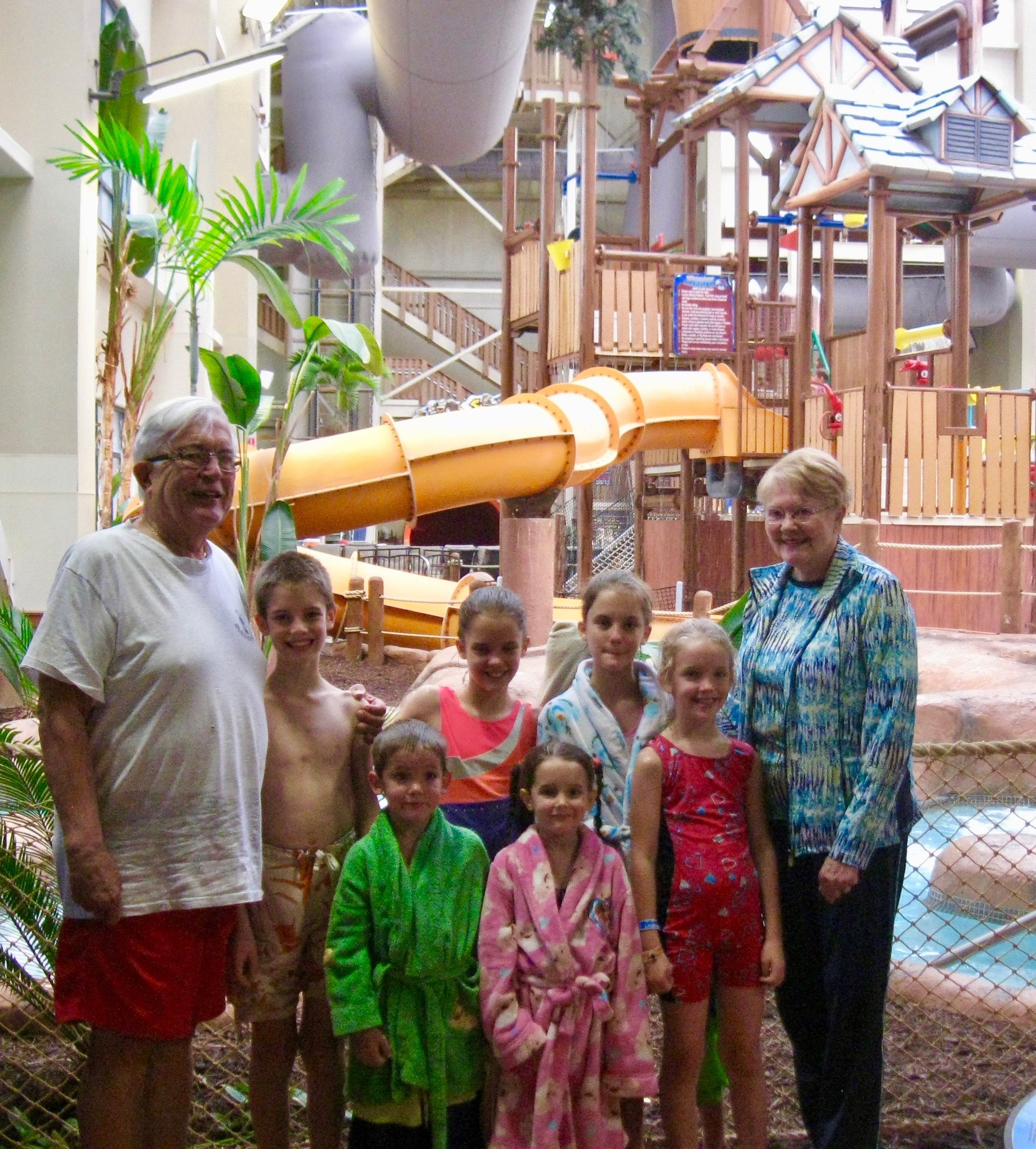 (The Smithlets with Grandpa Thor and Miss Alice)
Thor - Not surprisingly Thor's highlight was when Grandpa Thor and Miss Alice took us to an indoor waterpark in east Tennessee in January.  We had a fun few days swimming during the day and playing games in the evening.  We look forward to getting with them again soon.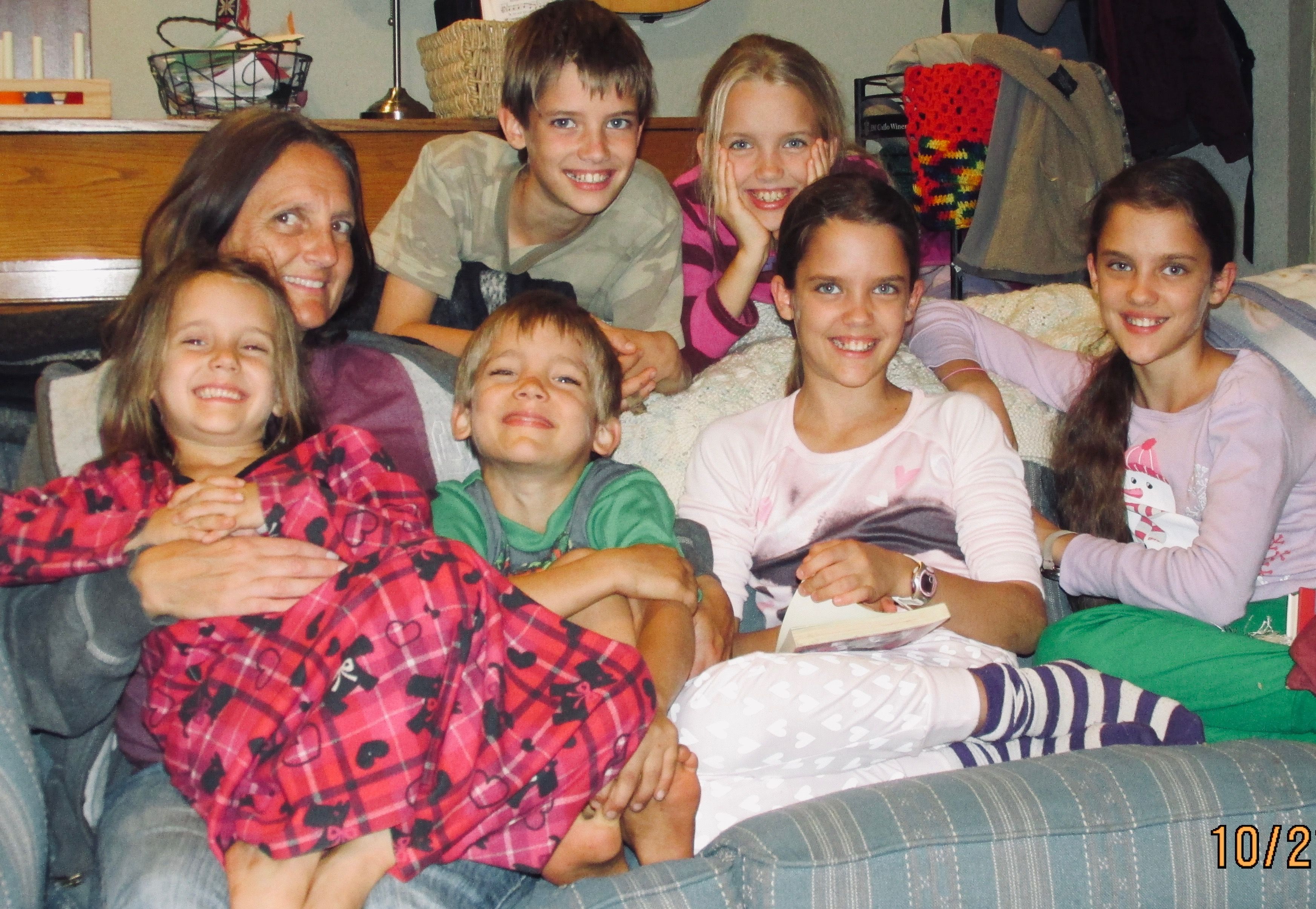 (The Smithlets with Auntie Elizabeth)
Tirzah - She learned how to ride a bike in 2018 and does it most days that weather permits.  The children made gifts for each other for Christmas and Tevya made her a really festive bike basket out of plastic canvas and decorated it with gears wrapped with copper wire from old motors (very Tevya).  Auntie Elizabeth's visit at the end of October was also a real highlight with book reading, sewing, and a trip to Loretta Lynn's Ranch.
Favorite Smith Family Quotes from 2018 
Mar. 8 - This evening while Todd was drinking a quart of warm saltwater for the purpose of cleansing his colon, Tevya (11) who likes to play with words said, "If that much cleanses your colon, then half as much would cleanse your semi-colon." 
Apr. 2 - When the song "El Shadai " sung by Michael Card was playing, Tirzah (4) said, "My love in my heart goes out to God when I hear this song.  It really makes me cry." 
Apr. 12 - "Mama, pick a hand." Thor (6) said while holding a flower behind his back.  After I chose his right hand, he brought it out from behind his back and added, "I got it when I was going to the bathroom behind the house." 
Apr. 16 - Tirzah (4) showed a picture that she painted for a 95th birthday card that we are making for Wylie's dad, the "Captain" (given this nickname due to his sailing expertise) and stated, "This is for the 'Pirate'." 
Apr. 18 - "I think the hardest thing I probably have to do in the morning is getting out of bed." Tevya (11) 
May 29 - As Tirzah (4) handed me the children's pop-up anatomy book on the human body, she instructed me, "Look up what a chicken gizzard is." 
June 17 - Yesterday we met at the park for our Sabbath meeting and one of our visitors included Jennifer's niece in her mid twenties.  Tirzah (4) climbed up into her lap and whispered to her, "I'm shy."  The young lady responded, "I don't think so". 
July 21 - In the evenings I often ask the children if the chickens got closed up to make sure that it gets done.  This evening after I had commented about the computer being plugged in, Tevya (12) asked, "Did anyone plug in the chickens?" 
Aug. 31 - While driving home from the second hand store I asked the children what we should sing.  Thor (6) suggested "Jesus Loves the Little Children".  Therefore I asked the children how Jesus showed His love for us.  Thor (6) responded with, "He gave us Him." 
Sep. 14 - During the "Who Said That Game", when asked where Tevya was born, Thor (6) responded with, "In the toilet."  We were looking for the city and state, not the specific location. 
Sep. 17 - Tirzah (5):  "Thor, do you want to come eat some hickory nuts?" 
Thor (6):  "Sure, are they the yummiest ever?" 
Tirzah (5):  "Yes, one was the yummiest ever, but…I ate it." 
This morning while we were walking Romeo Shoovey (9) said, "Being the youngest of the oldest four is annoying." 
Oct. 2 - The other morning while we were walking I asked Tirzah (5) why she had a yellow crayon with her.  She informed me that Thor (6) had given it to her that morning to remember him by while he was at work with Daddy.  She had it with her much of the day. 
Oct. 26 - Mama:  "That's the problem with highly processed foods.  They taste so good it makes it easy to be a glutton…  That's the nice thing about food that doesn't taste so good, you're less likely to overeat." 
Tiveria (11):  "Yeah, we could sell glutton free products."  (No doubt she was referring to Mama's cooking.) 
Mama:  "Our motto could be, 'You only want to eat one…if that.' 
Nov. 28 - Tirzah (5) recently hung a necklace on the bathroom doorknob as a reminder to pray for people that we've prayed for while out and about.  Today she emerged from the bathroom and said, "I just love praying for Miss Susan because I love her."  Miss Susan is a woman that we prayed for at the end of August at a church service that we attended in Murfreesboro in order to see Dan Mohler.  She appreciated our prayers so much that she actually sent us a box of gifts shortly afterwards. 
Dec. 4 - Today while reading a Bible story to Thor (7) and Tirzah (5) I quizzed them on the king's name which was Xerxes and Tirzah (5) responded with, "Bonzai". 
Dec. 7 (the 5th anniversary of Papaw's death) - A couple days ago Tirzah (5) who was four months old when Papaw died said with a sigh, "You know, Papaw really did make life fun."