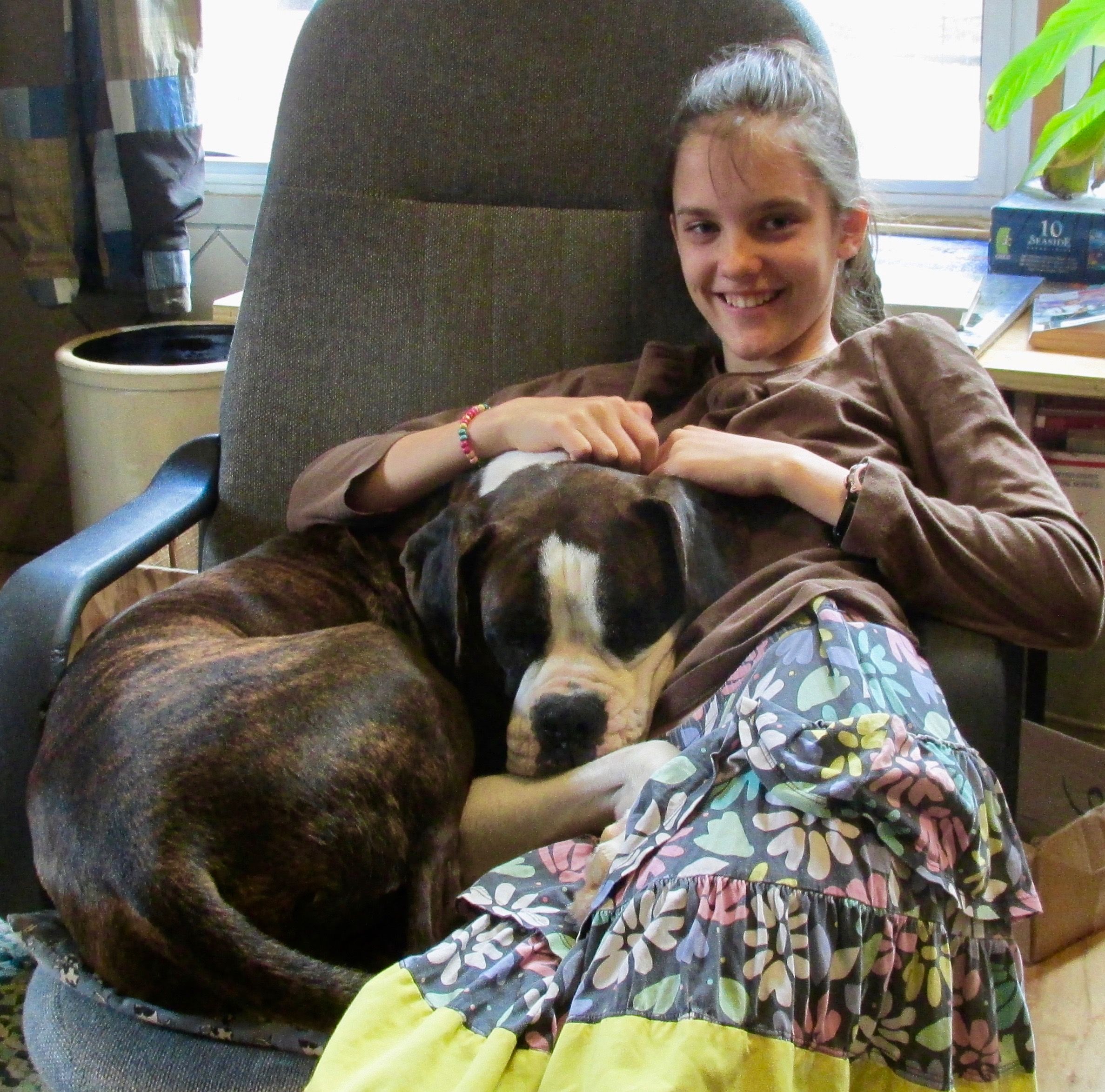 (Romeo and Tikvah sharing Daddy's chair)
In April of 2017 we decided that it was time to get another dog.  We'd gone almost two years without one.  Tup, who was a small rat terrier type had come home with Todd from work one day in December of 2014. His boss's crew had found her under an old church they were working on.  However, she was never quite convinced that being a member of our family was part of God's will for her life, and she ran away about five months later when we were in Wisconsin visiting family. 
Therefore we were praying for wisdom in choosing another dog as we didn't want a repeat performance.  We all had our vision of the ideal.  I, personally, thought it would be nice to find a puppy like the ones that we gave away years ago when our Annie had puppies.  She was a mutt, but appeared to have a lot of yellow lab in her.  Unfortunately her stay with us was also rather short since she killed one of our neighbors chickens when it got in our yard one day.  We decided that our relationship with our neighbors took precedence over our dog. 
So here we were hoping for another dog that wouldn't run away or chase chickens.  Todd took off work in the afternoon so that we could go to the Linden pound as a family.  Once we got there we discovered that they had already closed for the day.  We had my laptop with us so we parked by the Courthouse and went online to check out Craig's list.  We didn't find much there so then we looked up the Humane Society.  We found a phone number and called the woman. 
She informed us that she had about 25 dogs but that they were currently unadoptable because they were undergoing deworming.  Then, almost as an afterthought, she said that she did actually have one dog available.  He was a boxer about two years old who had been returned recently because he had knocked over a toddler.  She assured us that he was friendly, but just unaware of his own size.  She then added that he had only three legs and one eye due to being shot.  It was at that point that I became convinced that he was the perfect dog for our imperfect family.  Todd and the children agreed and the rest is history.