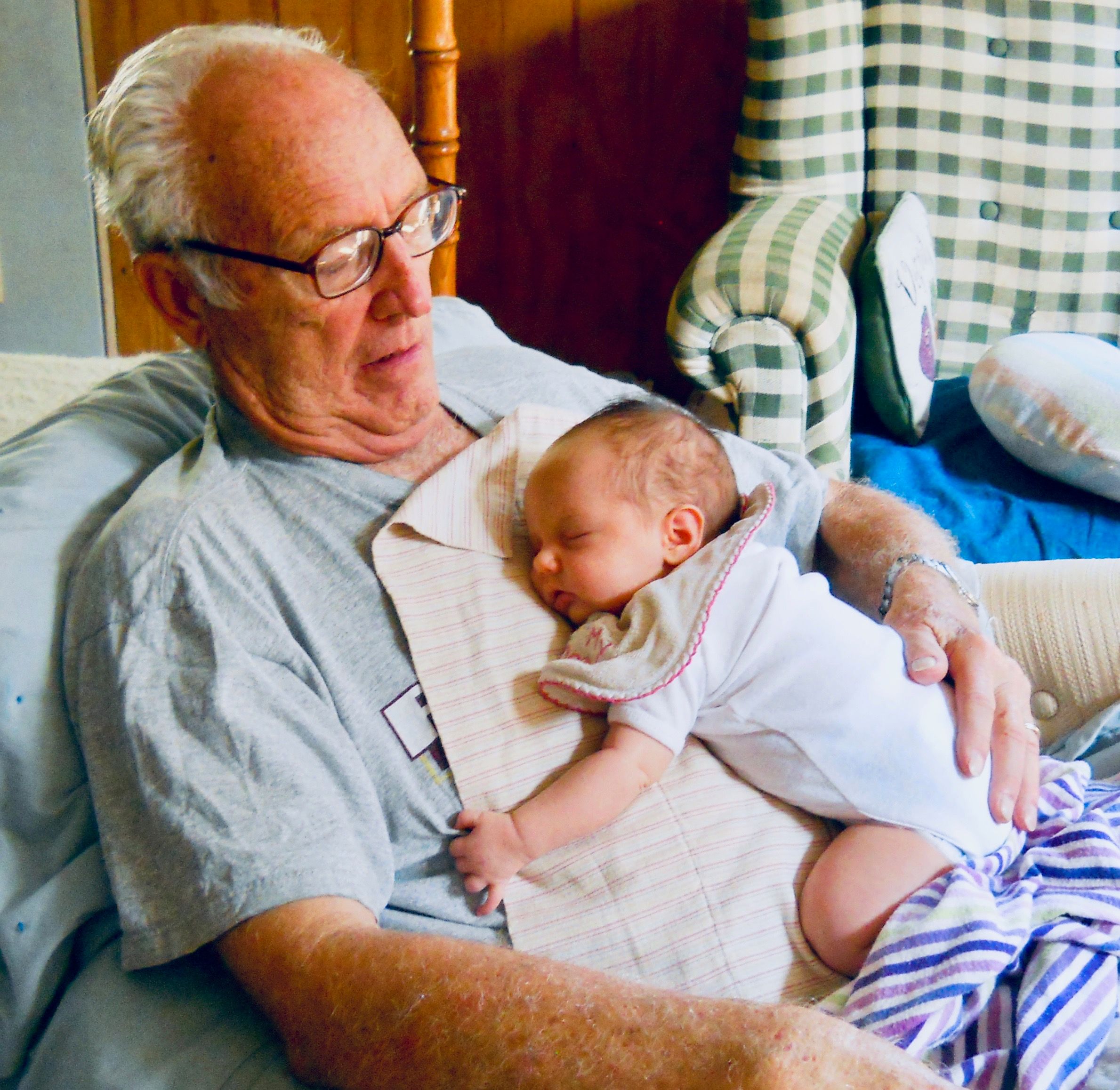 (Note:  This photo of Papaw and Tirzah was taken a few months before he died.  We're so thankful that he got to meet her.)
This song came to me in December of 2013 when Todd and I left our oldest four children with friends while we traveled to South Carolina with our youngest two. Todd's father had had a stroke and the plan was to see his Daddy for the last time before he left us. However, shortly after we got on the road we received the call that he was gone. It was very hard on Todd. Despite a rough start when he was young, his dad had become one of his best friends and his chief counselor. We felt the void immediately. We continued with the trip so that we could be with his family for a few days even though they decided to do a memorial service at a later date. 
The beginnings of this song came to me while we were out and about running a few errands before settling in to stay at the house that his parents had purchased when they moved from Florida to be closer to Todd's sister. They had been living with Todd's sister while work was being done on the house that they would never move into. After we arrived at the house I sat on the end of the bed with the song going through my head wondering how to record it before it left me. I didn't own a cell phone and I hadn't used my hand held tape recorder in years. No "real" songs had come to me in about eight years, although I had a few silly ditties for the children. Songs seemed to come in direct proportion to the amount of time I spent in God's Word and I have to confess that I spent very little time there once little people started showing up. This song broke the silence. I then remembered the video recording feature on our camera so I videoed the closet or my feet or something equally exciting and got the first part of the song recorded. At some later date I sat down and finished the rest. 
We sang this song at a memorial service in North Carolina in May of 2014 as that is where Grammy and Papaw used to spend the hot season. They used to visit us in Tennessee in the spring for a week on their way up and again in the fall on their way back down to Florida. We really miss those visits. During the week of the memorial service we were blessed with an extended stay at Todd's sister's place in South Carolina due to van problems. The video of this song found on this website was recorded there on his sister's phone. The children were ages four months to seven years at the time.  Tirzah is not in the video but you may hear her fuss in the background. 
The song is pretty self-explanatory for the most part, but I'll give a little more information anyway. Todd's Dad and Mom met sometime around the third grade and neither one ever dated anyone else (FYI they didn't start dating in the third grade). They married when they were 19. He played football for Florida State, got a degree in baking, and became a meteorologist in the Air Force. They had five children, three boys and two girls. My husband is number four. Papaw retired as a Colonel after 27 years and they returned to their home state of Florida. They celebrated their 60th wedding anniversary one week before he died.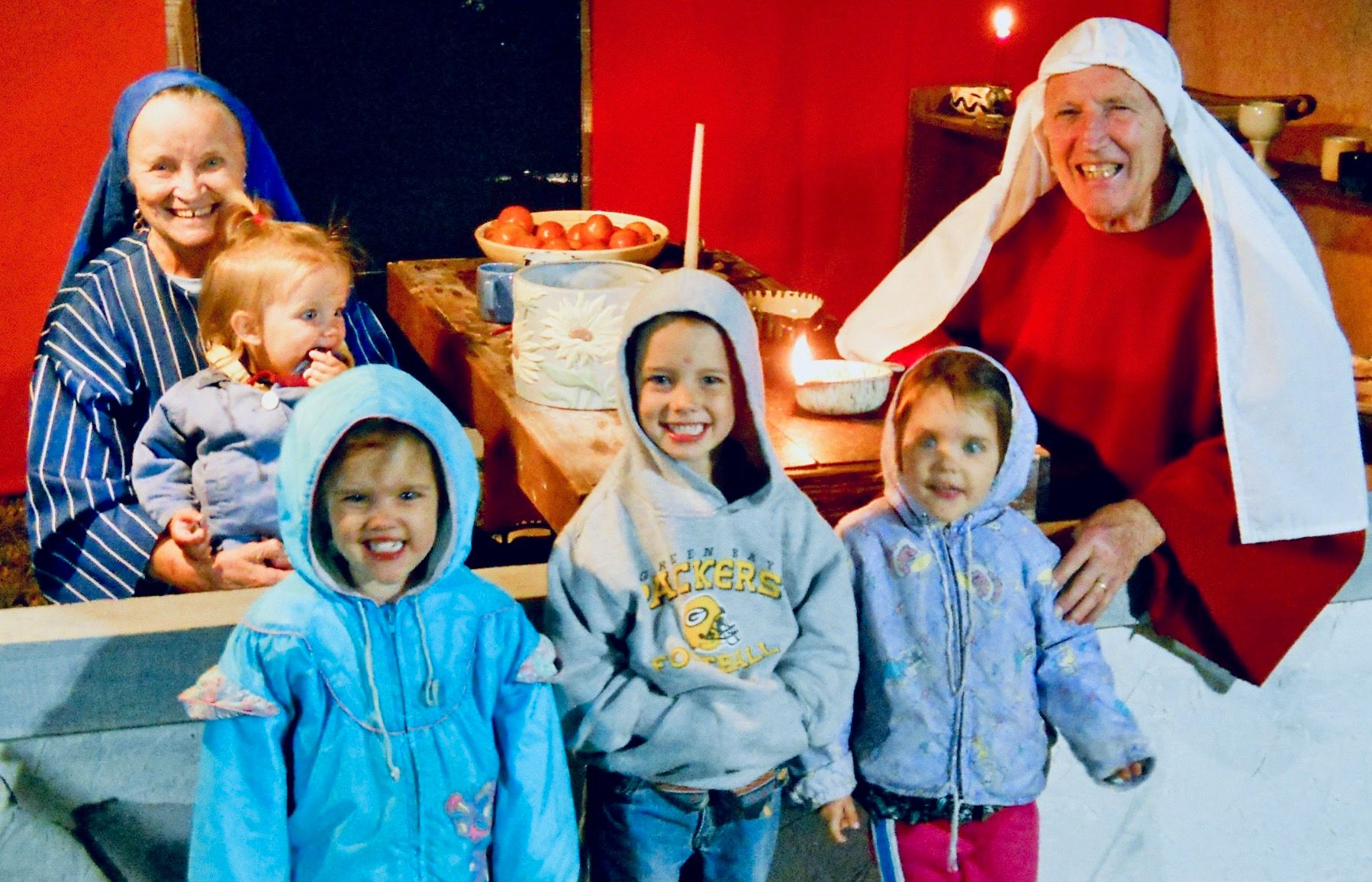 (Note:  This photo was from the "Bethlehem Walk" that their fellowship put on every year at Christmas time.  Todd's parents participated for about 25 years as shopkeepers.  When we visited in 2010 they did this for the last time.)
Todd's family had a tradition of celebrating Thanksgiving and Christmas together on Thanksgiving so that their children were free to celebrate Christmas elsewhere in December. They called this event "Thanksmas". In 2010 we were planning to travel to Florida for this purpose. Todd wanted to stay for two weeks and I wanted to stay for only one. We had four children ages four and under at the time and was in the middle of potty training the twins.  I didn't like the idea of being away from home. We had pretty much come to a compromise on spending ten days when on November 15th Todd fell off of a roof and broke two vertebrae in his lower back as well as his left hand. His parents who were in their 70s at the time daringly invited us to Florida for Todd's recovery. They rented an RV and Todd's boss and coworker were kind enough to drive us down since Todd had to remain on his back. This was a huge blessing since in our case when Todd didn't work, we didn't eat. We ended up spending four months in Florida, a bit more than my desired one week.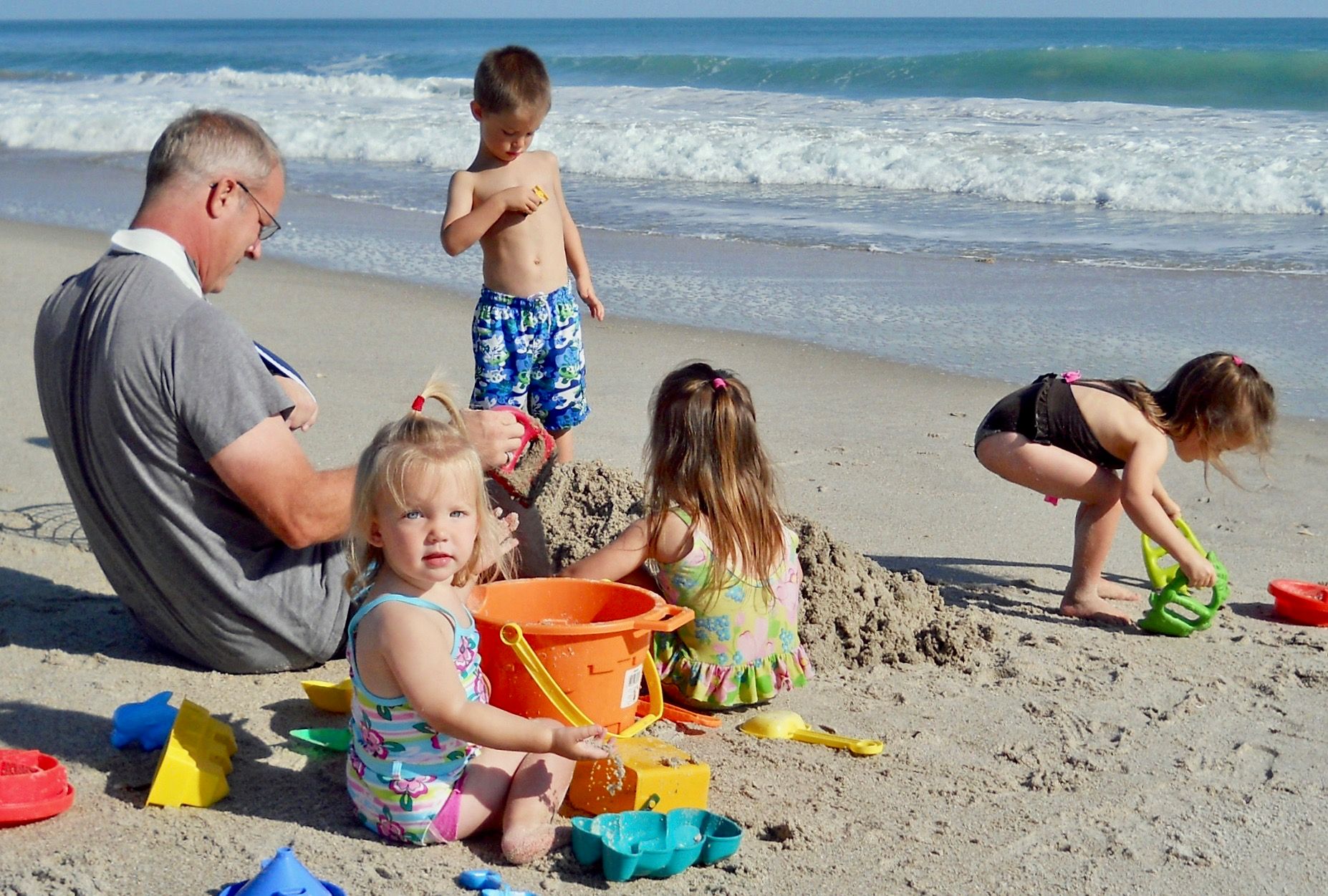 (Note:  Todd's parents lived only a few blocks from the beach so we took advantage of this.)
After Papaw's death in 2013 we realized just what a treasure that four month "vacation" was. It enabled our oldest four children to really bond with their grandparents and allowed me to do the same. Some of our most precious memories as a family come from that season. I get teary eyed just thinking about it. One of the items that I sometimes gave the children for lunch was called ants on a log and consisted of celery spread with peanut butter with raisins placed on the top. Papaw liked to pop the raisins in his mouth and then say "oo…oo…ouch…oo" as though the ants were biting him. The children got a real kick out of this. Several times while we were there Papaw made waffles with chocolate chips which is something he was known for. We sometimes do the same as a way to remember him, but I've found it is better to sprinkle them on top since they stick too much to the waffle maker (just in case you decide to try it). 
Because we've given the copyright of this song to the Holy Spirit, He might lead you to use it as the basis of a song for someone that you love and want to remember (i.e. "One thing I remember about Nanna…", etc. One of these days I'd like to put it to a video with all of the photos that we have of the children with their Papaw. You might want to do the same with yours. Songs are a great way to deepen relational grooves (see the blog on relational grooving for an explanation of this). 
Papaw's Song 
One thing I remember about Papaw is he made waffles with chocolate chips 
Another thing I remember about Papaw is the raisins that bit his lips 
Mostly I remember that Papaw loved us and made life fun 
And I'm sure when he first got to heaven Jesus said "Well done" 
One thing I remember about Papaw is his love for his family 
Another thing I remember about Papaw is he did projects with my Daddy 
And every time he would visit he'd pretend to shave my face 
And although I really miss Papaw I know he's in a better place 
One thing I remember about Papaw is he was always making new friends 
Another thing I remember about Papaw is he was faithful until the end 
And 'though once he was the "Big Man on Campus" for 60 years he loved Grammy the best 
And although he hated to leave her he was longing for heaven's rest 
One thing I remember about Papaw is he served Christ until his last breath 
And I am so thankful that Jesus conquered sin and sickness and death 
For although we surely miss Papaw this is not the end 
For I know that the next time we see him he'll introduce us to his Best Friend 
One thing I remember about Papaw is he made waffles with chocolate chips 
Another thing I remember about Papaw is the raisins that bit his lips 
Mostly I remember that Papaw loved us and made life fun 
And I'm sure when he first got to heaven Jesus said "Well done" 
Copyright 2013 Holy Spirit (via Paula Smith)