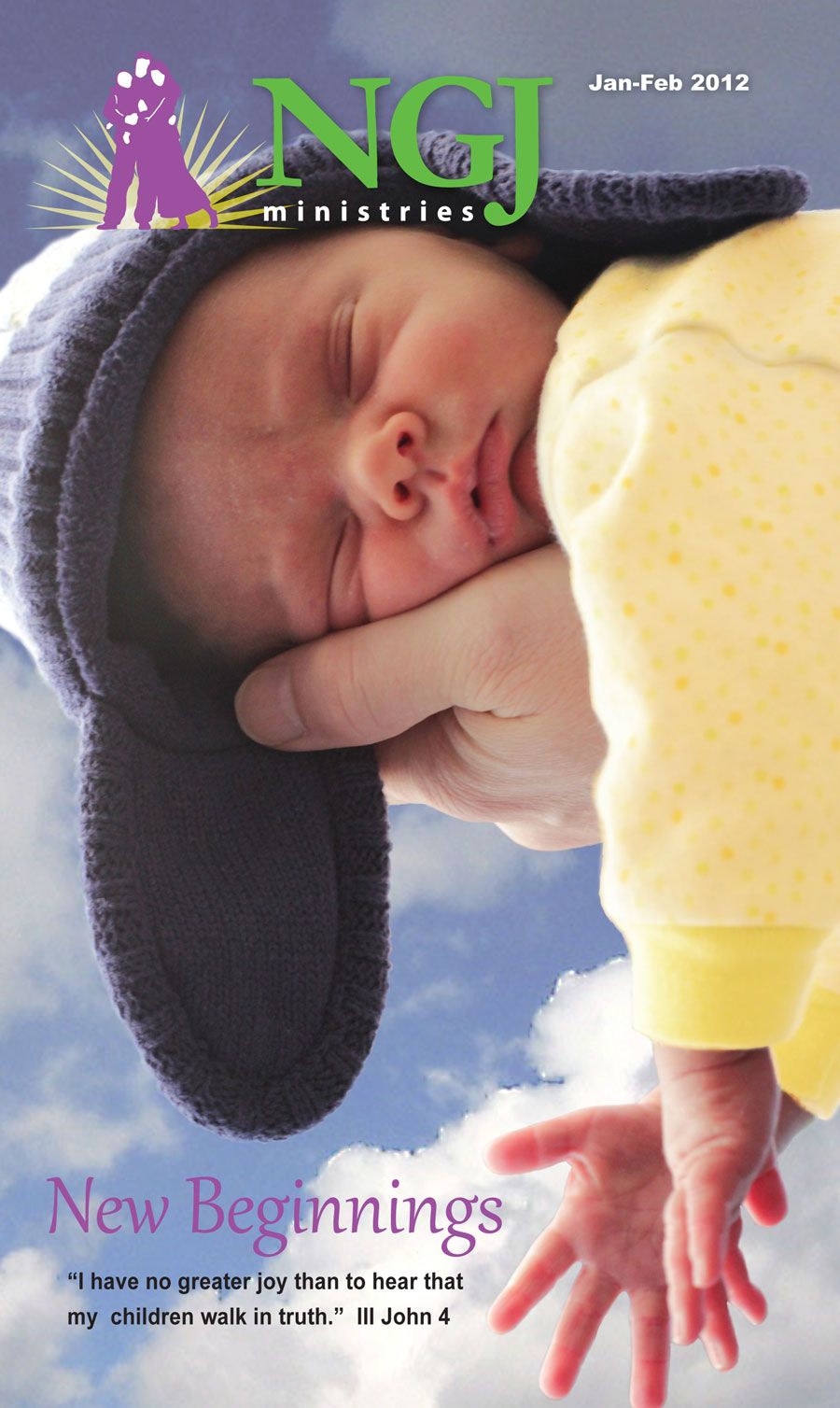 (A fun side note:  A friend that I graduated from the Air Force Academy with gave me the book "To Train Up a Child" by Michael and Debi Pearl shortly after our graduation in 1994.  I was a fairly new believer at age 25 and one of the first things that struck me when I read the book was my need to train up myself.  I was also drawn to the "horse and buggy" community that they described.  Little did I know that ten years later the Lord would lead me to marry a man in that very community just five minutes from the Pearl's fellowship.  We attended their fellowship for about four years and during that time Debi took a picture of our son Thor shortly after his birth for this cover shot of their magazine.  We've been very blessed by their ministry throughout the years.) 
After reading Debi Pearl's article on brain grooving in one of their recent "No Greater Joy" magazines, I've thought of it often and specifically considered its impact on relationships. The following is my own theory based on my own experiences.  I should note that the reason I feel comfortable writing about my early feelings toward my parents is because those feelings have changed because of Jesus Christ.  My inability to love them was my problem, not theirs.  However, if they had known the Lord and taught me the truth as well, my problem would likely have been dealt with sooner. 
In 6th grade, my feuding parents divorced; I had more affection for the family cat (Patrick) than I did for either of them. I bawled when discovering that living with our Dad meant giving up the cat. I don't recall thinking twice about leaving our full-time, stay-at-home mom.  I suspect that because I spent more positive time with Patrick, I developed relational "grooves" which encouraged the flow of love (or at least affection). When the guardian ad litem asked which parent we preferred to live with, my only concern was that I remain with my older sister who functionally acted as our mom despite the fact she was only 16 months my senior. Because of public school and a dysfunctional household, three daughters spent little time with either parent. When we did, we experienced a superficial connection. Is it any wonder in this day that children have a greater bond to their devices than to their parents?  
Although we attended a church, the reality of God did not reside in our house, nor did we read the Bible. I personally cried out to God for guidance frequently with a heart's desire to do the right thing. But without adults in my circle who worshipped Him, a decade passed before I found the answers I sought. My older sister (a well-behaved, straight-A student) will tell you that she actually wanted to kill both of our parents by age twelve. I don't recall ever having feelings quite so intense, but I harbored disinterest toward both of them and eventually hatred for my dad. I remember once trying to comfort our chronically depressed mom with "Jesus loves you," because I knew that I didn't. 
Years later, while a cadet at the United States Air Force Academy, I learned what it truly meant to be a Christian and began seriously studying the Bible after caring Christians invested time in me. Within a few years, my transformed mind acknowledged that God's will no longer meant serving as a military officer. Although I didn't know precisely what was next, I needed to continue to seek God through Bible study and prayer so I could reevaluate my entire life in light of the Gospel. Thankfully I had money in savings to support myself during this quest without having to look for employment. 
After about one year in this situation, I considered the possibility of pursuing missions in Africa with a ministry based in San Antonio, Texas whose leader attended the same fellowship I did. As I prayed for God's confirmation, I felt uncomfortable with the thought of missionary goals when I knew I still hated my earthly dad. God had changed my heart in many ways, but this dark spot remained. I asked God to change my heart, hoping for a quick fix. Instead I sensed the Holy Spirit telling me that instead of ministering to orphans in Africa, I needed to return to my hometown and serve my dad. Amazingly, I surrendered to this call and actually lived with my dad for several months and later moved to a small apartment nearby. As a funeral director with his own business, I was able to work for him. He was also very involved in community service and I helped him in those areas as well. While avoiding direct confrontation regarding my radical career choices, it was clear he would have preferred it if I had stayed in the Air Force. He of course was unaware of my real goal.  After about two years of actively serving my dad in his physical presence, I distinctly recall the day I felt if he died, I'd actually cry. What a breakthrough! God had answered my prayer. By serving and regularly praying for him, I theorize that relational grooves formed that enabled love to finally flow his direction. God hadn't changed my dad; He had changed me! 
Scripture tells of the lack of love and affection in the last days. Our fast-paced lifestyle and social media training contributes to this reality. Christians fail to see the great danger lurking with the advent of the industrial revolution. When Americans started producing things without relationship, we lost the one ingredient that mattered most. God's goal has never been more, better, cheaper widgets. His priority is love (1 Cor. 13:1-3). The enemy has fooled us into thinking that we have important relationships when we don't. I closed my Facebook account when I realized no-one can have several hundred meaningful relationships; the attempt to do so threatens the few important relationships I do have. I found myself wanting to pray for all my FB "friends" who had problems, which meant I'd neglect sufficient prayer for my husband and children. I believe that this is one of the greatest tactics of the enemy in these last days. The devil overloads us on all sides with information, so we are rendered impotent unless the Holy Spirit makes clear the path of greatest value. Facebook "relationships" are largely self-serving and therefore don't lead to greater love of others. If a relationship doesn't involve sacrifice, then it doesn't foster love. The greater the sacrifice, the deeper the groove, and the more love which flows. "Hereby perceive we the love of God because He laid down His life for us…" (1 John 3:16). We may sparingly utilize Facebook and other similar social media for kingdom purposes. Yet if we have time to spend on those efforts and don't have time for old-fashioned face-to-face hospitality or prayer for immediate relatives, then we must consider our priorities in light of God's Word. 
We best form meaningful relational "grooves" over time as we pray for, serve, spend quality time with, and think about other people. Parents who do not do any of this for or with their children cannot expect their children to have affection for them. If family members merely sleep in the same house at night, how can we expect to love one another? The only way to navigate these treacherous waters safely is with God at the helm. Put Him at the center of our lives and thoughts. First and foremost, we must spend quality and quantity time with Him -- the source of all true love. Cry out for His Holy Spirit to lead as we can't understand His Word properly without it. If we are not careful, the spirit of selfishness can actually use God's Word to justify our own self-centered desires. Secondly we need to prioritize the relationships closest to us (spouse, children, friends, neighbors). If we really love these people in our inner circle, those who seek truth will flock to us when they witness our happy marriages, cheerful children, and unconditional love for those with differing views. The world will know our Christ by His love in us and draw near to what we have. If we have no love for others (are unwilling to make sacrifices for them), we need to question whether we are indeed Christians at all. 
I will leave you with a favorite homemade song to date. A good friend inspired its lyrics through her daily demonstration of sacrificial love and wise words. She humbly serves her family and friends with the fruit of her life bearing witness to the truth. I think it supports the grooving theory.  You can hear it sung here on this website. 
We're Not Just Growing Gardens 
(For my friend Brenda, a woman of wisdom) 
(July, 2017) 
Refrain 
Sometimes in this fast-paced world things get topsy turvy 
Many question why they're here and what their goals should be 
In Christ we have the answers that they're looking for 
Lord, help our lives to show His reality 
For we're not just growing gardens, we're growing children 
We're not just building houses, we're building men 
We're not just making music, we're making memories 
And glorifying God with our family and friends 
We're not merely making meals, we're making Mamas 
We're not merely making a living, we're making a life 
Our goal is not comfort and security 
In the end it will all be worth any struggle or strife (Refrain) 
For God doesn't just value the product, He values the process 
We who are made in His image should do the same 
More than just obedience, He wants a relationship 
With those He created to glorify His name 
We're not just prepping for tomorrow, we're preparing for eternity 
We're not just changing behavior, we're transforming minds 
Lord keep us from love of the world or pursuit of vanity 
For we're trusting Holy Spirit to prepare Christ's bride (Refrain)