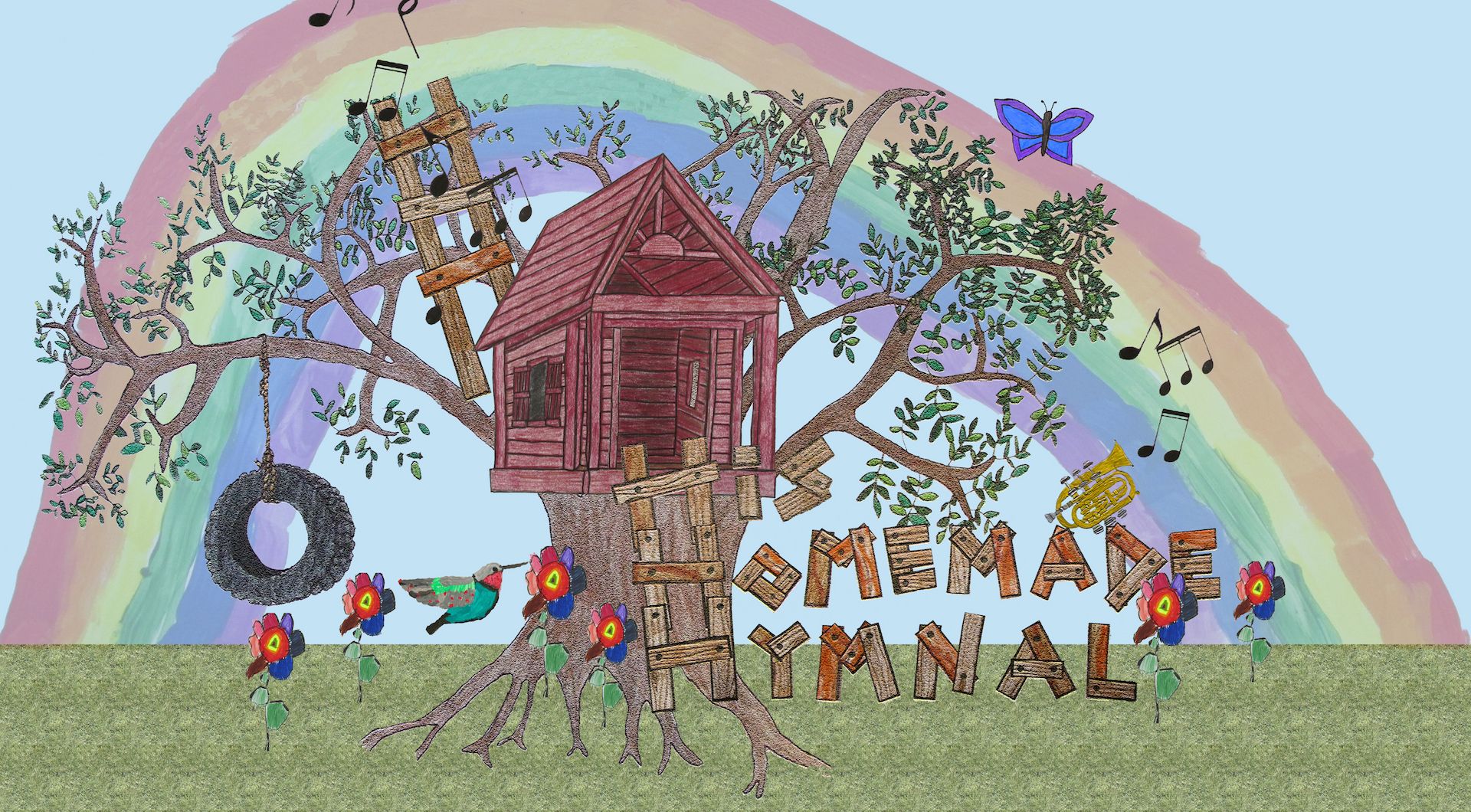 Originally we had planned to hire a young and very talented friend of ours to do the drawing for this home page.  I was disappointed to learn that he was too busy but decided that God wanted us to tackle it as a family.  We ended up having a lot of fun doing it and were quite pleased with the outcome.  
This is the rundown of the contributors: 
Tirzah (5) - flowers, wood (ladders and letters) 
Thor (6) - rainbow 
Teshuvah (9) - hummingbird 
Tikvah (10) - tree and tire swing
Tiveria (10) - tree, tire wing, wood 
Tevya (12) - trumpet (he drew 4 years ago) 
Mama (Paula) - treehouse, wood, photoshop work 
Daddy (Todd) - trained Mama on Photoshop 
Crystal (10) (neighbor girl) - butterfly 
Aunti Elizabeth (Paula's sister) - Years ago she bought the little playhouse which is a part of a larger play set that served as the model for the tree house. 
    As one might guess, there is meaning behind the various elements of this piece of family art.  The idea started with the ladder which came to mind as I (Paula) considered how stacking the three Hs for the name of the site on top of each other would look like a ladder.  I then thought of the notes going up and down to suggest how the songs first come down from heaven and then go up to heaven.  The treehouse reminds us of the fact that we are children of God and that we must be like little children in order to enter His kingdom.  The butterfly is a reminder of the new creation that we become when we surrender our lives to Christ.   
    The hummingbird represents our philosophy of the importance of cross-pollinating with other truth seekers in order to produce more and healthier spiritual fruit.  The fact that we invited Crystal to make a contribution to this drawing represents our desire to involve others from God's family to join us in this venture.  Originally I had the roots going down into a scroll with Colossians 3:16 on it, but since it didn't fit on the page I simply put the quote beneath it.  This suggests that our lives will thrive if they are rooted in God's Word.   
    Last but not least, the olive tree was chosen because of its rich symbolism.  The two main aspects that I would like to emphasize are the fact that the oil of olives was often used to give light and oil in the Bible is often used to refer to the Holy Spirit.  Our hope is that as people interact with this site that they will not only gain light as they encounter God's Word but that they will also have a real encounter with His Spirit.  I encourage you to check out the article on the website thattheworldmayknow.com pertaining to this topic if you are interested in an even deeper understanding of the olive tree.